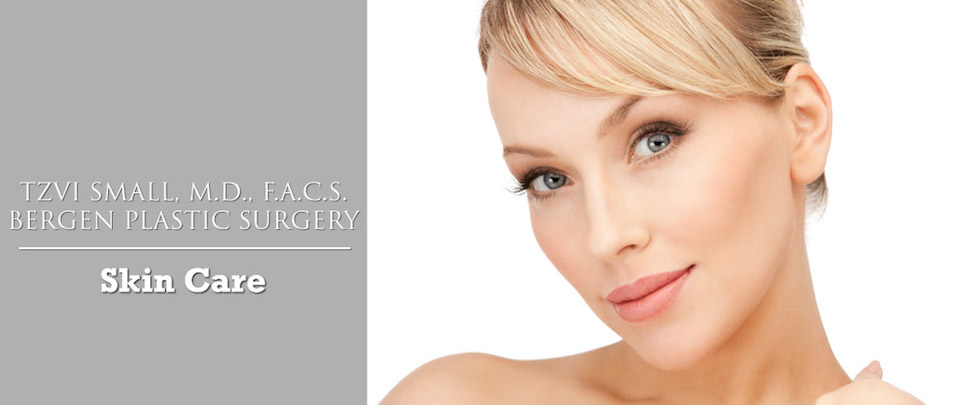 Injectable Cosmetic Treatments Bergen County
Patients who want to eliminate deep wrinkles and creases on the face and neck, add volume to features, or restore youthful fullness and firmness to the face can benefit greatly from injectable cosmetic treatments. At Dr. Tzvi Small's Paramus practice serving Bergen County and other New Jersey communities, BOTOX®  & Xeomin, Restylane®, Juvederm, Radiesse, and fat transfer injections are highly effective methods of rejuvenating the face with ease, safety, comfort, and only a minimal investment of time. These non-surgical treatments can be performed individually or in conjunction with other facial procedures, such as facelift, eyelid surgery, or brow lift. The goal of these treatments is to revitalize the face so that it looks youthful, smooth, and beautifully contoured.
BOTOX® Cosmetic & Xeomin
At our Paramus office serving Bergen County and beyond, BOTOX® Cosmetic & Xeomin are  popular injectable treatments performed with precision and care by Dr. Small. Patients who want to reduce the appearance of deep wrinkles in the forehead can rely on BOTOX® Cosmetic & Xeomin to give them the gorgeous, smooth facial skin they desire.
BOTOX® Cosmetic & Xeomin are  injectable chemical agents that temporarily relaxes the facial muscles responsible for wrinkles and fine lines. One of the reasons for the treatment's increasing popularity is the fact that it produces dramatic results in a short period of time. In fact, BOTOX® treatment & Xeomin is often referred to as a "lunchtime procedure" because it is so quick and painless that most people can have it done in the space of a lunch hour. BOTOX® & Xeomin treatments, if done by a skilled cosmetic surgeon such as Dr. Small, give patients breathtaking results that usually meet, and often exceed, their expectations.
When you come to our office for BOTOX®  & Xeomin injections, Dr. Small will first work with you to determine the optimal sites for injection. After the treatment, you should see a dramatic difference in the firmness and smoothness of your facial skin. The effects of BOTOX® Cosmetic & Xeomin last for up to four months, after which you can return to our office for a repeat treatment.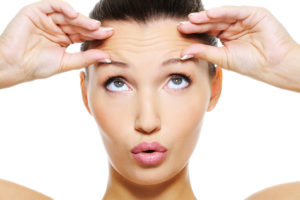 Restylane, Juvederm & Radiesse
In addition to offering BOTOX® & Xeomin, Bergen County, New Jersey cosmetic surgeon Dr. Tzvi Small performs Restylane®  Juvederm and Radiesse® injections to help patients achieve flawless, smooth, contoured faces easily, quickly, and with little or no discomfort.
Restylane® & Juvederm are a clear, biodegradable gel that is affordable, safe, and eco-friendly. It helps to smooth skin by filling wrinkles and hollows in the face.  Furthermore, the active ingredient in Juvederm & Restylane®   hyaluronic acid, is a moisturizing and lubricating agent for the skin, which makes the skin feel as young as it appears following treatment.
Juvederm & Restylane® is an attractive option for rejuvenating the face because it is fast, easy, painless, and effective. Each session lasts for about an hour, after which the patient is able to resume his or her daily activities without the need for any downtime. Like all injectable treatments, Juvederm & Restylane® requires upkeep; it lasts six months-1 year before retreatment becomes necessary.
RADIESSE® is a great option for filling in deeper lines as well as correcting volume loss in the in the cheeks and even hands! Lasts up to 2 years!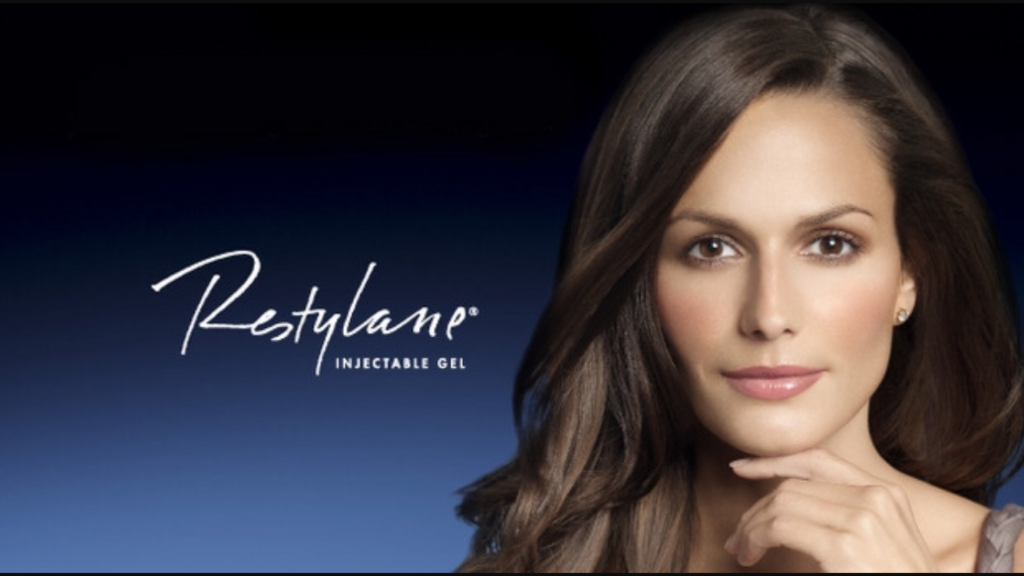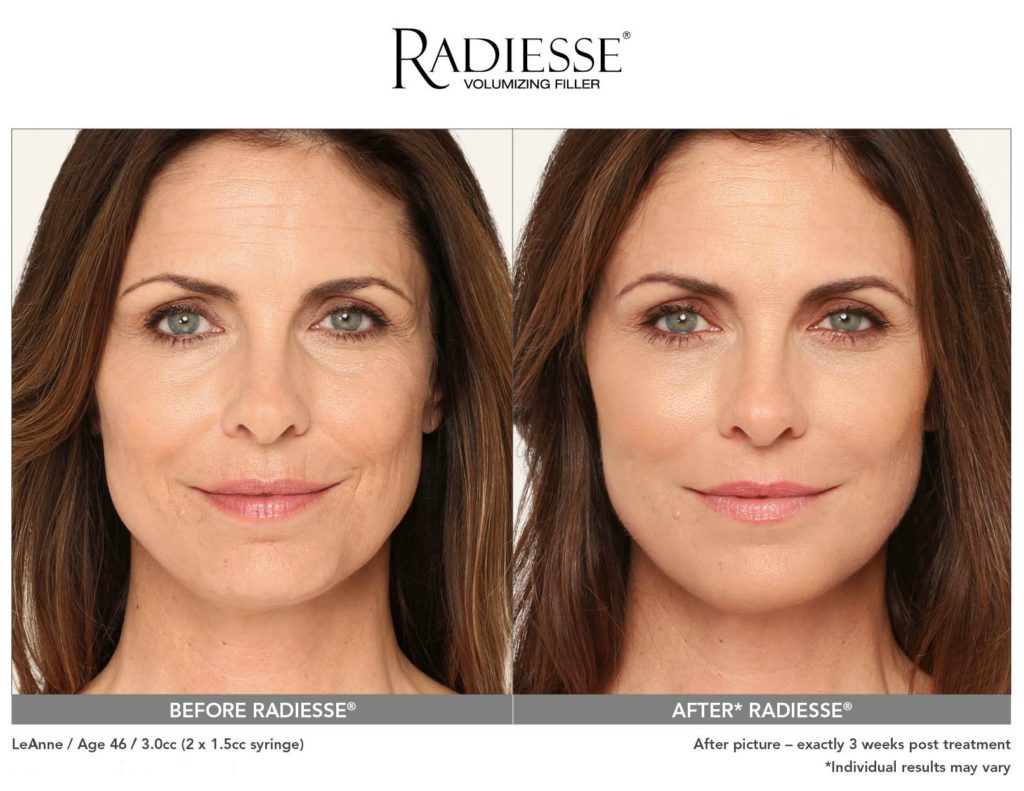 Juvederm® Ultra Plus XC now available!
Fat Transfer Injections
Fat transfer injections rejuvenate the skin of the face by filling wrinkles and crevices to restore firmness and smoothness to those areas. The major difference between the two treatments lies in the composition of the filling material. In Restylane® treatments, the hyaluronic-acid gel acts as the filler; in fat transfer injections, the filler is one's own fat cells, harvested from areas of the body where they are unwanted.
The procedure is safe and painless and consists of three major steps. First, Dr. Small uses light liposuction therapy to remove a small amount of fat from a fat-rich area of the body, such as the chin, buttocks, abdomen, or thighs. After removing these fat cells, Dr. Small sterilizes and purifies them so that they are in their most concentrated form. At this point, Dr. Small injects the cells into targeted areas of the face. Because this procedure uses the body's own tissue to fill wrinkles and crevices, there is no risk of rejection due to an allergic or immunologic response, making it an especially safe procedure.
Kybella
DIMINISH THE DOUBLE CHIN
WITH A TREATMENT TAILORED* TO YOU.
KYBELLA® is administered as a series of injections to the treatment area under the chin, destroying fat cells and producing gradual results. Everyone's chin profile is different, so your Dr. Small will tailor* treatment to you. The number of treatment sessions will vary based on the amount of fat under the chin and your treatment goals.

Laser Hair Removal
GentleLase is a powerful laser, intended to permanently remove hair on light to medium skin tones. Its laser emits high-energy light in longer wavelengths than those of other lasers, so it can destroy deeper hair follicles. It can be used on any part of the body, but popular treatment areas include the legs, underarms, bikini zone, face, chest, and back. You'll be able to resume your daily activities immediately after your treatment, but your skin may feel sensitive, so avoid wearing anything that might irritate it further. Shaving can be resumed after four or five days, and don't wax, bleach, or pluck any hair in the treatment area between your laser hair removal sessions. For two weeks after your appointment, use a gentle cleanser and avoid exfoliating. In between sessions, avoid direct sun exposure —which can cause skin damage, irritation, and hyperpigmentation—and use a sunblock of SPF 30 or higher.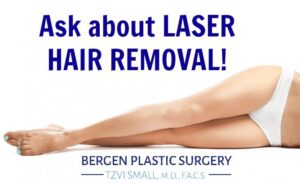 Contact Us about Injectable Cosmetic Treatments
To ensure the safety of your treatment and the quality of your results, it is important that you choose a well-trained, experienced plastic surgeon to administer your injections. Please contact Bergen Plastic Surgery, located in Bergen County, New Jersey to learn more about these treatments or other procedures by renowned cosmetic surgeon Tzvi Small.
Dr. Tzvi Small is dedicated to improving the tone and appearance of your facial skin by eliminating wrinkles, furrows, and other signs of aging quickly and effectively.  If you live in or near Paramus or Bergen County, New Jersey and are seeking BOTOX® Cosmetic, Restylane®, or fat transfer injections, we invite you to schedule a consultation with Dr. Small today.